Restore Canon ImageRunner Drums with Rotby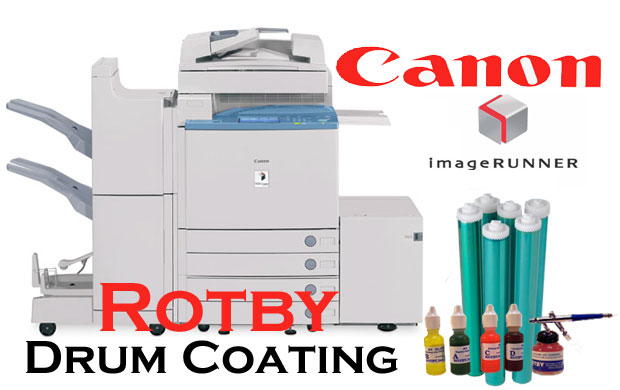 Restore Canon ImageRunner Toner Cartridges
Coat and repair drums, magnet rollers, charge rollers and wiper blades with the Rotby System
The Canon ImageRunner line of all-in-one copier / printers provide exceptional quality and performance. The model packs a great deal of productivity and technology into a convenient, compact design. But what happens when the drum, magnet roller, charge roller or wiper blade gets damaged or worn out? New drums cost well over $100 USD. This can quickly add up and add significant cost to your business.
Results of an Amazon Search for "Canon ImageRunner Drums"
Rotby to the Rescue!
All Canon ImageRunner toner cartridges, including the drums, magnet rollers, charge rollers and wiper blades are fully compatible with the Rotby System. The Rotby System is able to restore damaged drums that are scratched, chipped or just worn out. The coated drum will have a flexible finish that will not crack under pressure. When the coated drum is used, the Rotby layer gets consumed leaving the original Canon layer intact. Once the Rotby Layer is used you can re-apply and use the same drum forever.
Coating a Canon ImageRunner drum with the Rotby System can cost as little as $1.00 USD per drum. That is a savings of over 100,000%! Trust Rotby to extend the life of your Canon drum.
Models Supported
Canon ImageRunner 1023
Canon ImageRunner 1025if
Canon ImageRunner 2200
Canon ImageRunner 3300
Canon ImageRunner 3225
Canon ImageRunner 1025if
Canon ImageRunner 5000
Canon ImageRunner c3220
Canon ImageRunner c3200
Canon ImageRunner 1023if
Canon ImageRunner 1023if
Canon ImageRunner 5000s
Canon ImageRunner 1023n
Canon ImageRunner 330s
Canon ImageRunner 210s
Canon ImageRunner 4570
Canon ImageRunner 3570
Canon ImageRunner c2880i
Canon ImageRunner c3080
Canon ImageRunner 2800
Canon ImageRunner 1330
Canon ImageRunner 3235i
Canon ImageRunner c3380
Canon image runner 5000
Canon ImageRunner c2550
Canon ImageRunner advance
Canon ImageRunner 7095
Canon ImageRunner 3035
Canon ImageRunner 400s
Canon ImageRunner 105
Canon ImageRunner 3230
Canon ImageRunner c3380i
Canon ImageRunner 1025
Canon ImageRunner c2880
Canon ImageRunner 2525
Canon ImageRunner 1310
Canon ImageRunner 5070
Canon ImageRunner c5185
Canon ImageRunner 550
Canon ImageRunner c4080
Canon ImageRunner 2000
Canon ImageRunner 3235
Canon ImageRunner 3025
Canon ImageRunner 3045
Canon ImageRunner 8500
Canon ImageRunner 1670f
Canon ImageRunner 1370f
Canon ImageRunner 5055
Canon ImageRunner 600
Canon ImageRunner 1310
Canon ImageRunner 1025n
Canon ImageRunner 5570
Canon ImageRunner 2020
Canon ImageRunner 1025n
Canon ImageRunner 5570
Canon ImageRunner 2020
And more! Just ask!
Buy Now