Restore Your Toner Cartridge Drums!
Why throw away a used laser printer or photocopier drum when you can restore it for as low as $0.50! Coat and repair all types of OPC Drums and Selenium Drums with the ROTBY SYSTEM and increase profits today!
Everything Needed to Coat and Repair
The Rotby System restores worn and damaged drums, magnet rollers, charge rollers and wiper blades used in toner cartridges. It is compatible will all drum types including OPC, Selenium and A-Si drums. The formulas in the Rotby System are applied using an air brush spraying process that results in an even and accurate coat every time.
Complete Solution Includes
Formulas and tools for protecting, restoring and repairing drums, rollers and wiper blades
Drum Rotator Spray Booth
Air Brush Spray System
Instructional DVD and Manual
Lifetime technical support via Skype
Sustainable and Eco-Friendly
When you coat a drum using the Rotby System, it will be protected from future damage and wear-and-tear. The Rotby layers can be re-applied regularly, enabling you to use the same drum forever. You will get at LEAST 6,000 to 12,000 prints out of a coated drum before it needs to be coated again. As you get better at applying the formulas, your drums will last for even longer periods of time.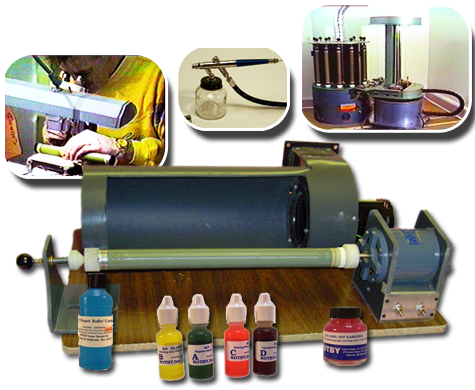 Rotby's formulas are the only drum coating formulas that can repair scratches, chips and foggy spots. This is in addition to recoating all laser and photocopier drums, including OPC, Selenium and A-Si drums. Our formulas also restore magnet rollers, charge rollers (PCR), and wiper blades.
Need More?
Do you require a custom package? If our
Starter Kit
and Add-Ons don't satisfy your specific needs, we can put together a custom solution with just the formulas and tools you need. Contact us today and we'll assemble the order that's right for you.